Purdue Shop
Tales From Boilermaker Country
3003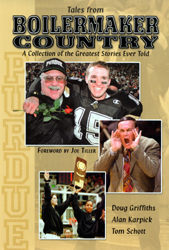 The history of Purdue athletics is sometimes funny, sometimes poignant and triumphant and often pretty amazing-but always uniquely human. You'll read over 200 of the favorite "tales" from the characters that have made Purdue athletics memorable over the years.
The short stories in "Tales From Boilermaker Country" were researched and told to authors Doug Griffiths, Alan Karpick and Tom Schott. From the first football team, to this year's blowout win over Indiana in Mackey Arena by Keady's crew, Griffiths, Karpick and Schott talked to dozens of former Boilermaker greats to get their favorite stories on their unique experiences on and off the playing field or court. Griffiths is editor of Gold & Black Illustrated, Karpick is publisher of Gold & Black Illustrated and Schott is Purdue's Sports Information Director. The trio combine for six decades of watching Purdue athletics.
Personalized, signed copies by the authors are available upon request. The book is also on sale at University Spirit locations and other area bookstores.
Shipping available within the continental U.S.