Purdue Shop
Gold and Black Express One-Year Digital Subscription
1004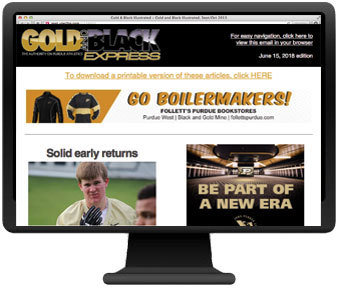 Gold and Black Express is the authority on Purdue sports with an emphasis on football, basketball and recruiting. It is a must for any Purdue fan! Order now and get 5 extra issues....a great value.
The 1-year subscription includes:
Online access to 50 (+10 FREE) digital magazines "Gold and Black Express."
Express is available year round, and is delivered to your inbox twice weekly during football season and weekly during Big Ten basketball through spring football. There is also a PDF version included with each issue allowing you to print out your own copy for easy reading. If for some reason, you can't access this electronically, call us at 765-237-5078.
Express is delivered to you via e-mail.
WE MUST HAVE AN EMAIL ADDRESS FOR THE RECIPIENT!


Brand:
Gold And Black Express
Coman ID:1004
Current Subscriber?
Yes, please renew my subscription! (0) No, this is a new subscription! (0)
Is this a gift?
No (0) Yes (0)
Please send a gift card and sign it:
Recipient's first name, Email, and regular mailing address